Get a free budget estimate of your project UX Redesign.
Use the fields below to indicate your needs.
Choosing the default settings of the UX/UI Redesign cost calculator you will receive:
UX research
UI modernization
Replacing the entire look and feel of an existing site with a modern design, taking into account all current market trends and taking into account your wishes.
Note: The redesign will make taking into account the old site design – no major changes will be made for the convenience of the client and users.
There will also be all recognizable corporate colors, the location of the main elements of the site (logo, menu), but in a more convenient and attractive shell.
Site resources optimization
Refactoring of all HTML, CSS code of the site (optimization and reduction of resources – images, video, etc.) with the aim of improving the performance of the site.
Upgrade CMS WordPress and plugins. Adaptability for viewing on mobile devices.
Basic SEO optimization
The site will be made basic SEO optimization in order to increase its position in the results of search engines. And also to increase network traffic.
Planning your budget for a UX Redesign
You made the right decision about an urgent update, but it is not so easy to determine what needs improvement on your website and how. And besides, you have neither the time nor the desire to spend a lot of money on this.
Calculating the exact budget for your UX/UI Redesign is the first step after realizing that your site is out of date and doesn't fit your business anymore.
FastRedesign is the right solution!
Getting ready to redesign a large scalable project?
Migrate from any CMS to any platform
It's a time to not only redesign your website but transfer it to a more powerful and modern platform.
It's worth thinking about it, for example, when:
Your project has scaled to hundreds of pages and continues to grow.
Or when you feel a lack of functionality in a standard admin panel of your CMS and need more flexibility.
Also, when there is a need to use a toolbar with a large number of panels with statistical data (tables, graphs, charts, etc.).
Or maybe you need to share access to various parts of the site depending on the role of the user.
If you answer "Yes" to most of these questions, then it's time to move on to the next level of development for your project.
For this, you will need deeper resource analytics, with the aim to bring the product to a new level of KPI.
Get an extended estimate of the costs of the redesign using the project price calculator.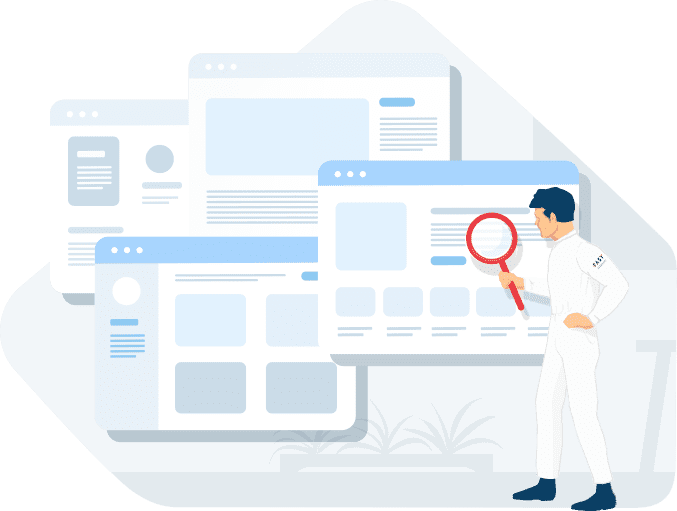 One of the most important aspects of UX Redesign is User Experience Audit
UX Audit is an accurate diagnosis of the health of the entire system of your product.
With the help of A User Experience Audit, the following weaknesses will be revealed: interface errors, where are users getting stuck, causes of increased in churn and bounce rates, and many more.